News
Here you find …
– The events calendar
– The donation opportunities
– and information about current exhibitions and competitions – open calls for participants.
–––––––––––––––––––––––––––––––––––––––––––––––––––––––––
HAND in HAND
Competition and Travelling Exhibition
Cordial invitation to participate!

Hands … give, take, work, ask, pray, speak, show, greet, care, pamper and much, much more. They can be massive or delicate. They can be artistically portrayed or themselves portray art.

Definition of the Task: Complete a textile work of art relating to the theme HAND in HAND. Consider the theme from all angles and aspects, i. e. reaching out to one another, working with, for or helping one another.

First Exhibit: September 2021, at the 27th European Patchwork Meeting in Sainte-Marie-aux-Mines, France.

Application – Deadline: May 31, 2021
NOTE: Applications, arriving until June, 5th can be accepted!
Application must be submitted online: Registration form

Please note:
Requirements: Competition

Online-Shop with hand embroideries

If you have questions or problems with you application, please contact us via E-mail at: handinhand @ guldusi.com

–––––––––––––––––––––––––––––––––––––––––––––––––––––––––
Accompanying our exhibition
"Gardens Around the World"
we published a catalogue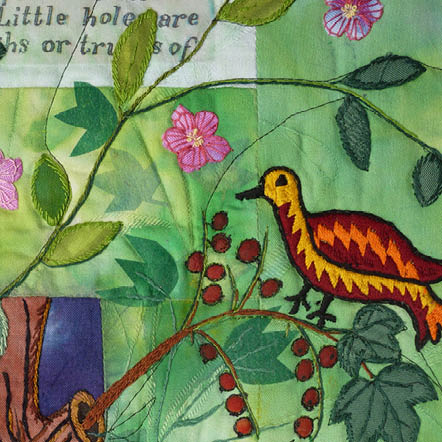 This exhibition is no longer on show, but you can enjoy its beauty with this gallery book. The catalogue lays bare the stages of the project, a process not immediately visible in the end products. The gallery book "Gardens Around the World" invites you to be enchanted by the results of this cultural exchange. Enjoy your stroll in international gardens!

168 pages, hardcover with thread binding, 20 € inklusive shipping, published at MaroVerlag.
You can flip through the book in our excerpt.
You can order the book here on our site.